STUFF YOU SHOULD KNOW!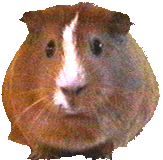 _

Q&A

Q. What is a Skinny Pig?

A skinny pig is basically just a Guinea pig with only a bit of hair on their nose and feet. It was originally discovered in a lab in Montreal in the 70's. Its becoming more and more popular as people are falling in love with the personalities of these little guys. Some say (and I agree) that they have "bigger" personalities even than their furred counter parts.


Q. What is living with a Skinny/Guinea Pig like?

Skinny pigs differ from the furred ones in that they eat more, due to their bodies having to work twice as hard to produce heat. You also need to be extra careful they do not catch chills. Make sure they are not close to a door that opens and closes thru the extreme seasons, especially in winter. Some people choose to provide a heat lamp, but most don't. Extra extra caution must be taken so the pigs can't get close enough to the bulb and burn themselves tho. ONLY use a 40 Watt bulb if you must. I have NEVER had to use a heat lamp.

Most skinny owners like to use fleece hammocks for their pigs, or snugglies in their cages, and even fleece bedding instead of Shavings. Other than that, their needs are the same as the furred one.


Q. What are their dietary requirements?

All Cavies require a daily, unlimited supply of a good quality pellet, some nice green Timothy hay, and water. Alfalfa hay is used mostly with nursing/pregnant sows, as well as young pups. I tend not to give it to any of the others as its too high in Calcium and may cause kidney stones. Now on top of that, cavies require Vitamin C added to their diet as they cannot produce this themselves. See links below as to what foods this is found in.


Q. Can I bath my Guinea Pig?

You most certainly can, but keep in mind not to wash them too much as it can dry their skin out. Also, cavies tend to be really sensitive to getting chilled/cold. So when you wash them, make sure you keep them warm.


Q. Are they good with kids?

As with any animal, its all in how you teach the kids to handle them. Kids should always be supervised while handling them. Also the more an animal is handled the more they are used to it and tolerate it well. So "are they good with kids" depends on you~! Even then, there are some that are more mellow than others... they each have their own personalities too.... you just have to find that perfect match :)


Q. What do I feed them? Is there anything that is poisonous for them?

Yes there most certainly is.... here are some great links to what is good and what isn't for them to eat :)
http://www.theguineapigforum.co.uk

http://www.guineapigcages.com
http://www.wikihow.com
http://www.guinealynx.info
They always should be given a constant supply of pellets, water and hay! I buy my hay from a local feed store (mentioned below) at 10-12.99 per bale, depending on the season. Its much cheaper than paying 7.99 for a tiny bag of it. And guinea pigs like to not only eat it, but play in it too :) Also, if you can find a local farmer that is willing to sell you their orchard/timothy hay, its a great way of supporting local and often more affordable than at pet stores!
This is the link to what I feed my Cavies:
http://www.proformfeed.ca
Q. What can I use for the bedding? And how often does it need to be changed?

There are many options out there, but what I find it boils down to, is how many you have in the cage, and how much you want to spend on bedding. The one bedding to stay AWAY from is CEDAR!! I know there are some stores that carry it, but they SHOULD NOT! The phenols (strong smell) in the bedding is too strong and can damage the lungs of the little critters. :( Myself I use either Kiln Dried (this process kills the strong scent that hurts their lungs) Pine shavings or Pellets for wood stove burning.

With the pellets I'm careful that they are ok to use with animals. Usually if you go with "Stallion" brand, those are the one that are made for use around animals and are just fine. You can usually buy a big bag that'll last you a long time, from a feed supply store such a Buckerfields or Shar-Kare here on the Island, or your local supply store. I pay 10.99 per Bale of Shavings and 5.99 for the Pellets. The packages at the regular pet stores usually cost you MUCH MUCH more, than buying from the two places mentioned above.

Q. Are there any health issues I should be aware of and follow up on regularily?

NAILS - Should be checked everytime your cage is cleaned
TEETH - Should be checked everytime your cage is cleaned. Also, if your pig starts suddenly loosing weight, sometimes its because they aren't eating due to their teeth being too long. Important to check them. You can get your vet to show you, or just take to the vet to check if this is something your not comfortable with.
MITES - Mites can come about as a result of either dirty environment, or from an outside source: such as bringing in another pig, that is carrying them, from an outside source. They are only life threatening to the pig if left for a long time without treating. There are meds that your vet can give you for that.
SCURVY - This is a result of not enough Vitamin C in their diet. Some good sources of Vitamin C, that can be provided to them daily, are: Parsley, Kale (limited amounts), Yellow/Red/Orange peppers, Carrots, some pigs even like Oranges.
Once again, there is plenty of information on dietary requirements in the website listed below :)
http://www.guinealynx.info

If you have anymore questions, please feel free to send me an email :)